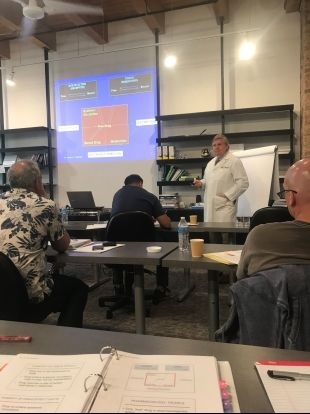 The American Chemical Society (ACS) is widely considered the nation's leader for advancing the study and interpretation of chemically-based evidence in criminal cases. The organization brings together leading minds in the fields of chemistry, pharmacokinetics, biological chemistry, and many others to share their expertise and knowledge with criminal defense attorneys from around the country. Lawyers who are able to attend ACS courses will be better prepared to handle the intricacies and complex scientifically- and chemically-based evidence often found in drug crime, driving while intoxicated (DWI), sex crime, and violent crime cases.
Amarillo Criminal Defense Attorney Chris Hesse of The Law Offices of D. Chris Hesse recently attended a Forensic DUID course presented by the ACS. The two-day course focused on how to analyze blood, urine, hair, and saliva samples taken from clients who were charged with driving under the influence of drugs while operating a motor vehicle. Different substances will impact different people in different ways, so it is crucial to be able to have an in-depth knowledge of how those influences may come about when creating a defense to DUID charges.
After completing the ACS Forensic DUID course, Attorney Hesse gained a sharp understanding of how a drug may or may not impair an individual. Prosecutors often depend on the argument that any amount of a narcotic or prescription drug of any kind is enough to cause impairment, and therefore should warrant a conviction. Using his newly refined knowledge, Attorney Hesse is equipped to challenge such arguments using both traditional courtroom methods and advanced comprehension of pharmacodynamics, or how a drug impacts psychomotor function.
To learn more about the ACS and its Forensic DUID course, you can click here to visit the organization's official website and course explanation. For more information about Attorney Hesse and his accomplishments, or if you need a Panhandle criminal defense attorney for a case of your own, do not hesitate to contact our law firm. Arrange a case review by calling (806) 350-6785 now.