Amarillo Criminal defense Attorney D. Chris Hesse has always been passionate about furthering his legal career and expanding upon his professional résumé. Our law firm is pleased to announce that he has continued this goal, which benefits both himself and his clients, by gaining admittance to the United States Court of Appeals for the Ninth Circuit.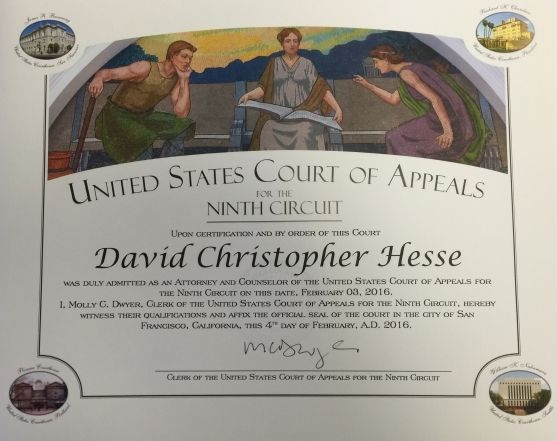 The Ninth Circuit Court of Appeals has jurisdiction over the western United States, including California, Alaska, Hawaii, and others, as well as Guam and the Northern Mariana Islands in the Pacific. As an appellate court, it has the ability to review or overturn decisions and judgements created by lower tribunals, ensuring a balance in the legal system of our country remains intact. The Ninth Circuit is also the largest court of appeals in the nation and is overseen by 29 judges.
Attorney Hesse has earned the right to practice in a wide range of courts, including but not limited to:
Fifth Circuit Court of Appeals (LA, MS, TX)
Texas District Courts (N, W, S, E)
United States Court of Appeals for the Armed Forces
United States Supreme Court
If you would like to know more about Attorney D. Chris Hesse and his professional achievements, you can visit his profile page. If you would like to know how you can retain his services for a criminal defense or civil rights case affecting you, contact us online, fill out a free case evaluation form, or call 806.686.2142 today.